As one of China's earliest independent automobile companies that developed new energy vehicle, Chery has started R&D of energy-saving and new energy vehicle since 1999. Currently, Chery Group laid out Chery New Energy for passenger vehicle, Kairui New Energy for commercial vehicle, new energy special-purpose vehicle, new energy bus, etc., forming an industrial pattern in which the new energy is fully developed.
| New Energy Passenger Vehicle
In the new energy passenger vehicle, Chery New Energy maintains advantage of the industrially-leading brand, adheres to the strategic policy of "holding key core technologies in our own hands, and developing national automobile brand", and is committed to R&D of key technologies and platforms for new energy vehicle. Currently, Chery Group has formed a R&D system and integrated platform for a full range of new energy passenger vehicles, and a BEV and plug-in hybrid technology platform for full-size series of passenger vehicles, including:
Four new energy vehicle platforms (lightweight BEV product platform, plug-in hybrid vehicle product platform, electric 4WD vehicle product platform, ultra-light intelligent interconnected vehicle product platform);
Five general sub-systems (vehicle control system, power battery system, electric drive system, PHEV powertrain, electrically-driven rear axle);
Seven core technologies (new energy vehicle integration, vehicle control technology, battery management and battery system design, PHEV system design, lightweight technology, intelligent interconnection design, extended-range/hydrogen fuel technology).
These are all "necessities" to consolidate the new energy vehicle market. As of November 2020, Chery has applied for more than 1,000 patents in the field of new energy, and obtained more than 600 granted patents, keeping the industrially-leading level.

Chery New Energy is a benchmark enterprise in Chinese automobile lightweight technology. Based on global original lightweight BEV technology platform, Chery New Energy independently developed design of China's first all-aluminum body and vehicle body frame. In October 2020, Chery New Energy's project on "key technologies and equipment for short process R&D manufacturing of aluminum-based lightweight new energy passenger vehicle", based on Chinese original "extruding/bending/welding-type/sticking/spraying-assembling" short process technology, won the first prize of "China Automobile Industry Award for Science and Technology Progress", which is one of China's highest awards in the automobile industry.

The fuel cell vehicle is one of the key development directions of Chery's new energy vehicles. Currently, the development of the fourth-generation hydrogen fuel cell vehicle has been completed. The newly-developed Chery ARRIZO 5 hydrogen fuel cell vehicle can be filled with hydrogen within 3 minutes, maximum endurance range exceeding 700 kilometers.

In order to quickly meet market demand for products, Chery New Energy established its branches in Hefei, Qihe, Shijiazhuang, Yibin and other cities. In the core parts and components, allied with the world's most advanced motor manufacturer-Japan Yaskawa Electric, Chery New Energy established a joint venture, Chery Yaskawa Electric Drive System Co., Ltd., and a wholly-owned subsidiary-Wuhu Qida Power Battery Systems Co., Ltd..

Under the guidance of core technologies, Group New Energy's passenger vehicle business has formed leading advantages in terms of product sales, technical reserves or industry chain layout. With the brand tenet of "Clean World Yoo Future", Chery New Energy has successively launched Small Ant, TIGGO e, ARRIZO e, Ant SUV and other vehicle models, and has achieved excellent market performance. As of November 2020, the production and sales volume of the star vehicle model "Small Ant" exceeded 150,000 vehicles, being a leader in the EV market. Jetour, in focus of "travel+" market segment, also has accelerated layout of new energy. In 2019, Jetour launched the new energy BEV SUV-Jetour X70S EV. Its core "battery, motor and electronic control" technology shared Chery Group's technologies and resources. Standard quality assurance system, intelligent plant and one-stop intelligent manufacturing management platform ensure reliable manufacturing quality.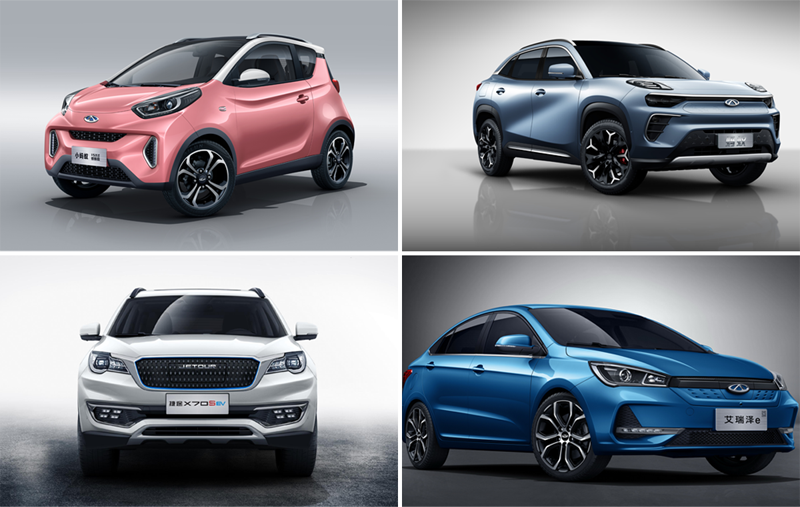 In the future, Chery's new energy vehicles will successively cover market segments. Through integrated development of new energy and intelligent interconnection technology, Chery will create a future-oriented green intelligent automobile sharing ecological environment, and is committed to opening a true "green travel era".
| New Energy Commercial Vehicle
In the new energy commercial vehicle, based on Chery Holding Group's advantages in technology, market and other resources, Kairui New Energy, affiliated to Chery Commercial Vehicle, focuses on urban distribution logistics, light-duty truck market, and MPV online car-hailing vehicle market. Its business covers vehicle sale, leasing operations and finance service, after-sales/supporting service and big data platform service. Kairui New Energy can provide customers with solutions for provide customers with integrated platform capacity, integrated industry ecosystem and platform-based service data. From 2018 to 2019, Kairui New Energy has kept its No.1 market position in the Chinese new energy logistics vehicle for two consecutive years.
With the product concept of customization, intelligentization, special purpose and lightweight, Kairui New Energy has successively launched a series of star new energy vehicles used for different scenarios, such as Elephant EV, Dolphin EV, Youyou EV, Youjing EV, K50/60 EV, etc.
In the business mode combination, Kairui New Energy's "Kairui New Energy Workshop" brings together customers management system, bee system and octopus system, grafts huolala, Kuaigou Taxi, Haoyong Car Rental, Maika Travel, Didi and other operating platforms, and achieves more efficient matchmaking of people, vehicles, passenger/cargo by using the features of product IOT, which can provide business partners and drivers with the more diversified, the richer operation modes and service platforms. By integrating finance service, after-sales guarantee, operating service, logistics platform, drivers' employment and other industry chain resources, Kairui New Energy Workshop provides nearly 3,000 business partners and eco-chain allies with a win-win platform.

With high-quality products and services, Kairui New Energy has continuously increased its sales volume, up to a market share of at least 70% in key cities, and has successively reached ecological alliance strategy cooperation with enterprises, freight platforms and financial institutions, such as S.F. Express, Cainiao, huolala, China Post, etc. In the future, Kairui New Energy will constantly explore customers' application mode, business mode and profit mode to help customers maximize value, and strive to be the first brand in the new energy commercial vehicle.
| New Energy Special-purpose Vehicle
In the new energy special-purpose vehicle, the special-purpose vehicle company affiliated to Chery Commercial Vehicle, in response to the government's requirements for "Blue Sky Protection Campaign", focusing on the development of "environmental sanitation, mining, cold chain" new energy series of products, will create a people-oriented vehicle ecosystem and achieve a vehicle iteration circle with the concept of "intelligence, environmental protection and personality".
| New Energy Bus
Based on Chery Group's new energy R&D and technology resources, Chery Commercial Vehicle's new energy passenger vehicle business focuses on urban public transport, highway passenger vehicle and other sub-sectors, gives full play to technological innovation advantages, vigorously promotes industry-university-institute cooperation, and focuses on creating new energy and intelligent new passenger vehicle.
Chery Commercial Vehicle Wanda Bus is Guizhou's only one company with new energy vehicle production qualification, as well as Guizhou's only one company with the production and sale conditions of hydrogen energy bus. The hydrogen energy technology proposal adopted by the company is characterized by high energy conversion efficiency, environmental friendliness, long endurance mileage, and short hydrogenation time, and combines the advantages of traditional automobile and BEV automobile.
Moreover, through industry-university-institute cooperation with Guizhou University and Tongji University, Chery Group has set up Guizhou University Automobile Engineering Doctoral Station, and established Guizhou Provincial Bus Engineering Technology Research Center and Guizhou Provincial Modern Manufacturing Technology Lab, aiming at creating safe, intelligent, environmentally-friendly, new energy passenger vehicle.
Up to now, Chery Group has sold nearly 16,000 new energy buses and highway passenger vehicles to Guizhou, Yunnan, Hubei, Anhui, Heilongjiang and other provinces and cities, which made contributions to promotion and application of local new energy vehicle and energy-saving and environmental protection undertaking.